Musicnizer In Other Languages
Musicnizer fully supports Unicode and can organize music in different languages. It is possible to use several languages within the same database, regardless of the default character encoding (also known as locale) in Windows.
Interface
The music organizer itself is available in a number of languages. When you install the program, the setup automatically detects the main language of your system and suggests it as the default one, but you can select a different language from the list: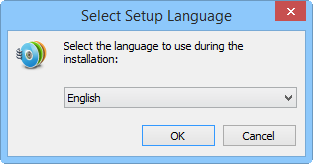 The selected language will be used not only for the setup, but also for the installed program. However, you can switch Musicnizer to a different language at any point, using the "File" - "Language" menu: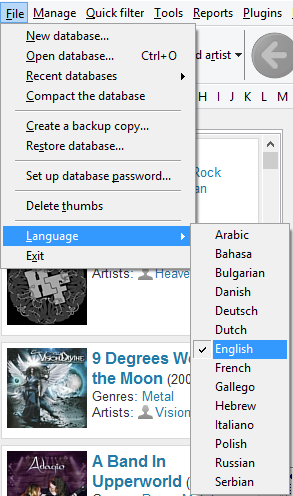 If no translation into your language is available, or the existing translation is incomplete, you can help us and other users from your country by translating or updating the language file. No special tools are required for this purpose, the standard Notepad program of Windows can be used. We appreciate your help and will provide you with a free license for Musicnizer. Please contact us before starting to translate or update an existing translation!
Information about music albums and artists
Musicnizer uses scripts to download information about music albums and artists from the internet. Scripts are special modules that work with one online music database each. Depending on the online database, a particular script may support one or more languages.
To select a download script, you can click the "Options..." link in the "Add album" window:

This will open the "Options" menu of Musicnizer on the "Scripts for albums" tab: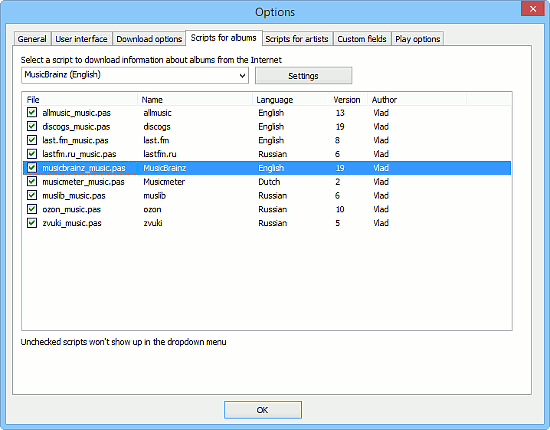 Here you can select a script by clicking on it with the mouse. The language of the script is listed in the "Language" column. Such scripts as MusicBrainz serve most information in English but are in fact multilingual.
If you know a good site about music albums and artists in your language and have some experience in programming, you can write your own script. Alternatively, send us a link to the site, and we will consider adding support for it into Musicnizer.
Read this article for further information about scripts.
Other items
If Musicnizer is available in your language, but you would like to get a license for free, you can consider translating some other items into your language. This may include information available on the official site of the program. Please contact us before translating anything!