Play Albums With an External Player
The music organizer can download information about your albums from the internet, including album covers, reviews etc. If your collection is stored as audio files, you can start playing tracks or albums directly from your music catalog. Musicnizer can play audio files with its built-in player. However, it is also possible to use an external player of your choice.
By default the program uses its internal player. To change this, go to the "Play options" tab of the "Options" menu (F10) and select the best option: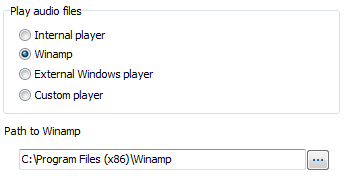 Musicnizer offers three external player options in addition to the internal player one. It directly supports the popular media player, Winamp. In rare cases when the path to Winamp is not recognized correctly, you may need to select it manually.
The external Windows player option allows you playing your files with the default player for the file extension. It's the player that starts if you double click the corresponding file in Windows Explorer. You may have different players associated with different file extensions, in such case Musicnizer will always start the corresponding player.
The last option in the list is "Custom player". As its name suggests, the option allows you using any player at all and may prove to be extremely helpful for advanced users. Here you can also pass custom parameters, which makes this option as flexible as it could be. Inexperienced users can simply select the .exe file of their favorite player without entering any parameters.