Quick Search For Music Albums
With Musicnizer you can easily locate music albums and artists from your collection: there are such tools as quick filter, collection tab, a powerful search engine. However, if you simply need to select an album or an artist from the list without browsing and scrolling, just type several letters from the name into the quick search box on the toolbar: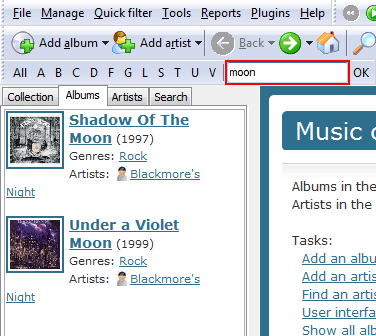 The main list (on the left) will be filtered, and matching albums / artists will be shown. If you do not want the program to filter the list automatically, you can disable this in the "Options" menu. When the option is disabled, the program will filter the list only after you press "Enter" on your keyboard or click "OK" next to the quick search field.
You can use the quick search field to search for individual tracks, too.
If you'd like to display the complete list on the left pane again, click the "All" button on the toolbar.