Music Loan Manager
Musicnizer helps you organize your music collection in many ways. All information about your music is kept in one place and easily available, regardless of where exactly albums themselves are. You can add audio files, discs by their barcodes, album titles, Audio CDs. Musicnizer will organize music in any form and on any media.
With certain types of media, like Audio CDs, it is important to know where exactly the album can be found. Musicnizer has special fields for this kind of information: location and disc#. You can find these fields on the "Parameters" tab of the "Edit info" dialog.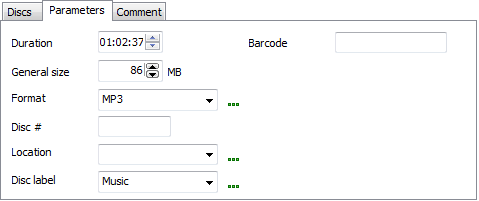 However, if you loan your discs to your friends from time to time, you may want to use a special tool to specify details, the loan manager.
Click the loan manager button on the toolbar

to open the built-in tool: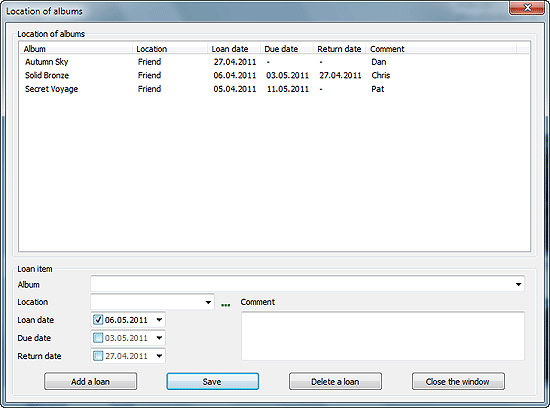 Here you can create, change or close your loans.
To create a new loan, select an album from the "Album" dropdown list, specify the location of the album, add loan and due dates, include your comment. After setting all fields click on the "Add a loan" button to add the new loan to the list.
To change an existing loan, select it from the list. Edit its fields, as necessary. Then click on the "Save" button to apply your changes.
To delete an existing loan, select it from the list and click the "Delete the loan" button. However, it is not necessary to delete loans. Even if you have your discs back, you can always look into the loan manager and remind yourself whom you gave a particular disc in the past. This will not be possible if you delete loans.
Please note that the loan manager shows all albums that have their location field set (not empty). You do not need to delete these loans, deleting them will erase the information about locations.