Report Builder
Musicnizer is a powerful music organizer that will scan your collection of audio files or Audio CDs and create an illustrated catalog, including information about artists, genres, album covers, reviews, and much more. It will remind you if a particular CD is loaned or where exactly you can find it. For artists, a complete discography can be downloaded along with photos, biography and other important facts.
It is possible to print information about your music collection using an existing report template. Musicnizer contains several pre-defined templates. But you can easily create your own report and include fields that are important to you, adjust paper size etc.
To open the report builder, click "Reports" - "Reports" in the program:

In the new window, click the rightmost button on the toolbar, "Report builder":

The content of the window will change, displaying new controls on the right: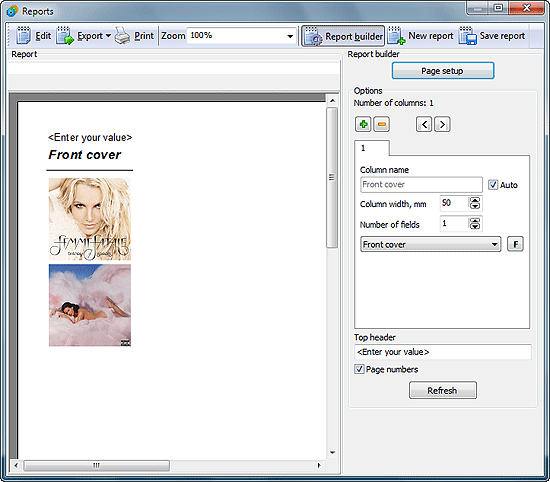 Let's take a look at the right pane. The "Page setup" button allows you to adjust paper size and page orientation. "+" and "-" buttons add or remove columns. Arrow buttons on the right will help you switch between columns. Below, there are some basic settings for each column: you can enter a custom name or let the builder generate it automatically, adjust the column width and specify how many fields the program should list in this column (with compact fields like location and disc number you may want to use several ones in one column instead of creating additional columns). Finally, you can select the item to display in the column. On the screenshot above it's "Front cover". To change this, just open the dropdown menu and select another value.
Further below it is possible to enter a custom title that will be displayed on the top of each page and choose whether to show or not page numbers.
After creating your own report you may want to save it for further use. Click the "Save report" button on the toolbar and enter some name for your report file.